We are examining the most favored specializations for Mythic+ during the third week of Patch 10.1.7.
DISCLAIMER
The subsequent post is based on information obtained from our sibling website u.gg, which has combined numerous parses from live servers.
The Most Popular Specializations for Mythic+ (Patch 10.1.7 Week 3)
This week's affixes are Fortified, Volcanic, Spiteful.
The Most Popular DPS Specializations
Augmentation Evoker – 27.7%
Shadow Priest – 14.7%
Fire Mage – 7.0%
Retribution Paladin – 5.9%
Fury Warrior – 4.1%
Balance Druid – 3.7%
Beast Mastery Hunter – 3.7%
Enhancement Shaman – 2.9%
Frost Mage – 2.8%
Destruction Warlock – 2.5%
Subtlety Rogue – 2.5%
Windwalker Monk – 2.0%
Arcane Mage – 1.8%
Havoc Demon Hunter – 1.8%
Arms Warrior – 1.7%
Feral Druid – 1.6%
Outlaw Rogue – 1.5%
Frost Death Knight – 1.4%
Marksmanship Hunter – 1.4%
Unholy Death Knight – 1.4%
Elemental Shaman – 1.4%
Affliction Warlock – 1.4%
Assassination Rogue – 1.4%
Devastation Evoker – 1.3%
Survival Hunter – 1.3%
Demonology Warlock – 1.3%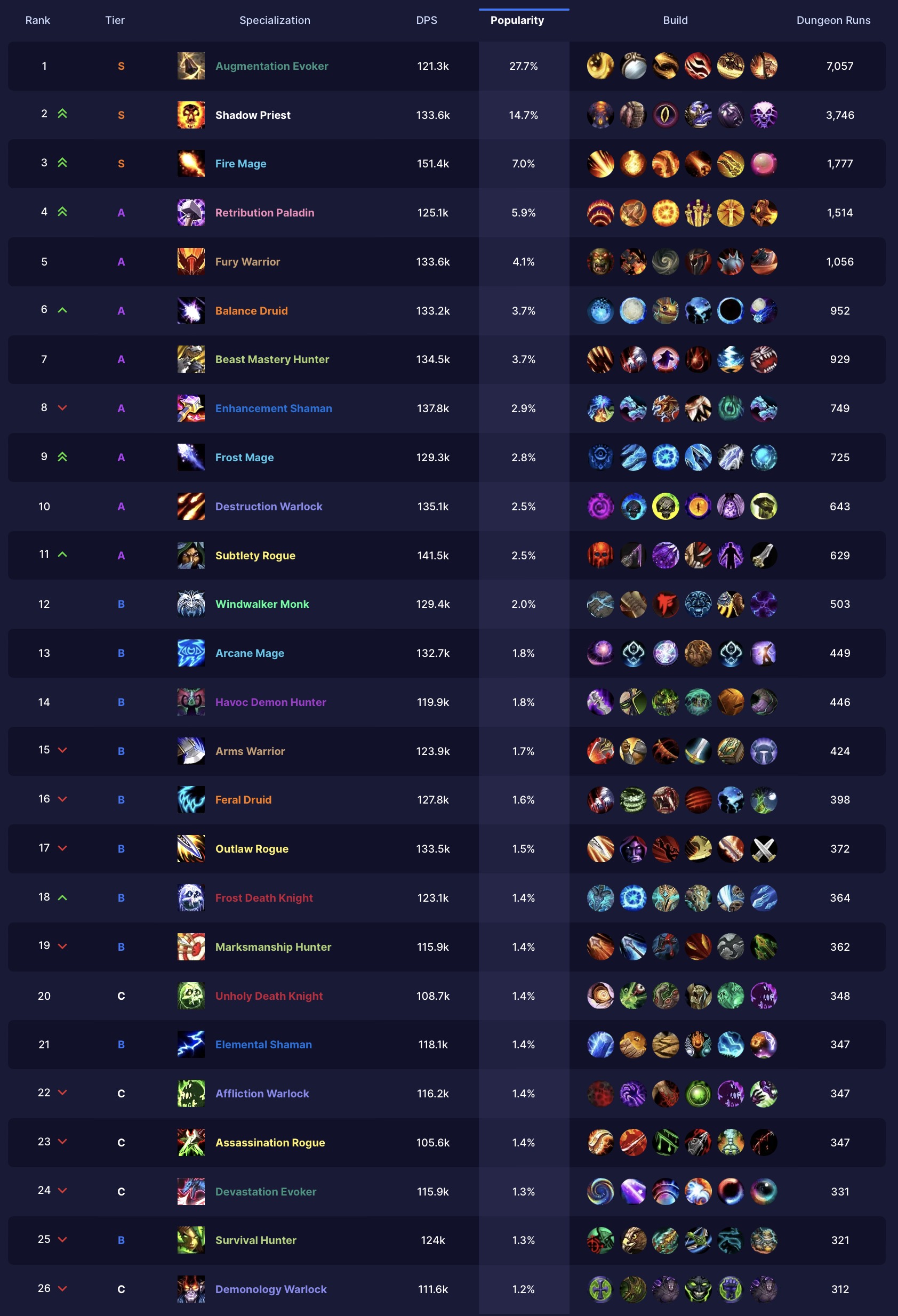 The Most Popular Tanks
Guardian Druid – 54.6%
Blood Death Knight – 13.1%
Protection Paladin – 8.9%
Brewmaster Monk 8.5%
Vengeance Demon Hunter – 8.5%
Protection Warrior – 6.4%

The Most Popular Healers
Holy Paladin – 45.5%
Discipline Priest 18.8%
Restoration Druid – 9.2%
Restoration Shaman – 9.0%
Holy Priest – 7.7%
Mistweaver Monk – 5.9%
Preservation Evoker – 3.9%